If you have a fascination with fighter jets, chances are you've always wanted to strap into some of the most dynamic aircraft in the world and take them for a whirl yourself. That's probably not going to happen in real life. So why not take to the skies in video games?
Flight simulators are the perfect option for aviation enthusiasts who are stuck at home. You can take control of your favorite plane with true-to-life cockpits, fly in and out of popular airports, navigate real-life weather models, and experience incredibly detailed 3D graphics.
There are many flight simulators on the market to choose from. Some simulators are incredibly intricate and authentic with a steep learning curve, and others are a bit easy to jump straight into.
Some simulators allow for VR capabilities, and others incorporate combat for those looking for a fighter-flight simulation. Regardless of the play style that you prefer, there is a simulator out there that is perfect for you.
Here are our top flight simulators for aviation enthusiasts and casual games alike.
Best Standard Flight Simulators
Aerofly FS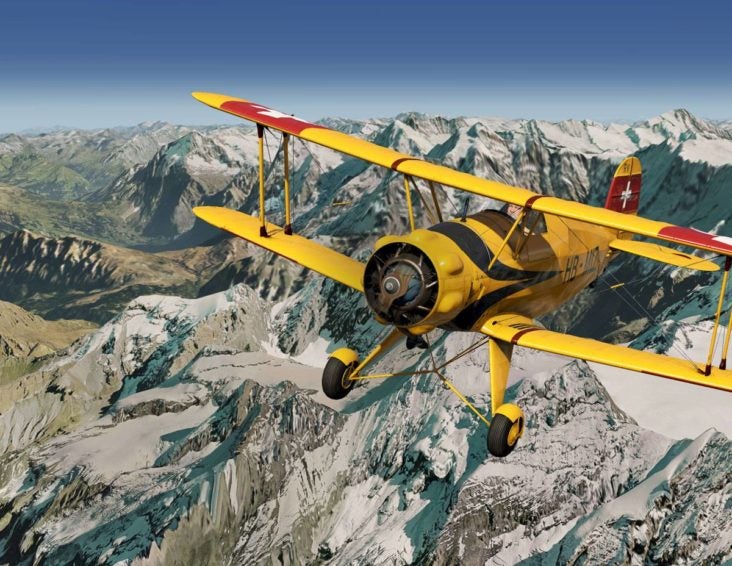 Platform: PC, Mac, iOS, Android
Price: $20
Aerofly FS is an incredibly realistic flight simulator that sets a high value on realistic flight physics, highly-detailed aircraft and terrain, and smooth frame rates.
The game offers 200 different airport destinations that you can fly into along with planes like the Robin DR-400 for sightseeing, the Extra 330 for aerobatic skills, or the F-18 for high-speed flying.
GeoFS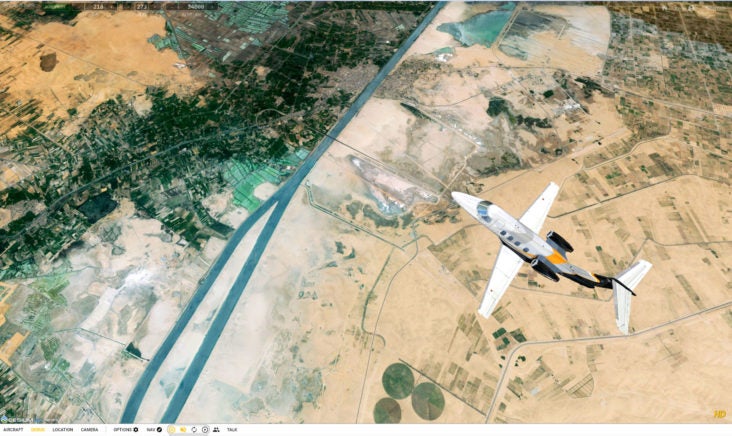 Platform: Web browser
Price: Free or €9.99 (~$11.22) annually for the premium version
The GeoFS flight simulator offers a global environment generated from satellite images and digital geographic data from Google Earth.
The graphics aren't as fluid as other offerings on the list, but this simulator does not require you to download a full game because it runs entirely from your browser! The simulator offers 20 different aircraft to fly, real-time atmospheric conditions, and 30,000 different runways to fly in and out of.
As if that weren't enough, even the free version supports massively multiplayer interaction, meaning you can get together with friends or come across other players playing GeoFS in real-time. In fact, GeoFS has a live map that tracks all pilots.
You can even fly to space! In addition to being able to fly across the Earth, you can also fly over the landscapes of both the Moon and Mars, whose maps are provided directly from NASA.
The paid version offers better imagery with a higher resolution, but the free version is all you need to get out there and start flying.
FlightGear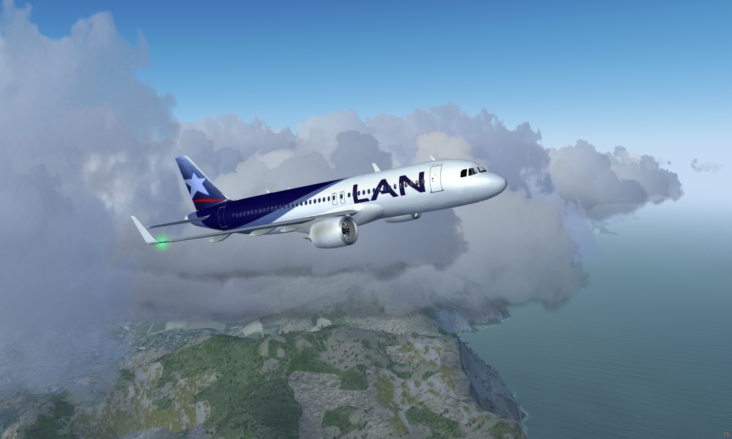 Platform: PC, Mac, Linux
Price: Free
FlightGear is an open-source free flight simulator project with over 20,000 real-world airports and a wide variety of aircraft models. The platform is constantly praised for its realism, overall flight controls, and even minute details such as lighting.
FlightGear offers extremely accurate time-of-day modeling with correctly placed sun, moon, stars, and planets for the specified time and date. This is achieved by tracking your computers clock time in order to assign objects to their proper place relative to the earth.
The program is also open-source, so players have unrestricted customization to make any changes to the game that they see fit.
FlyInside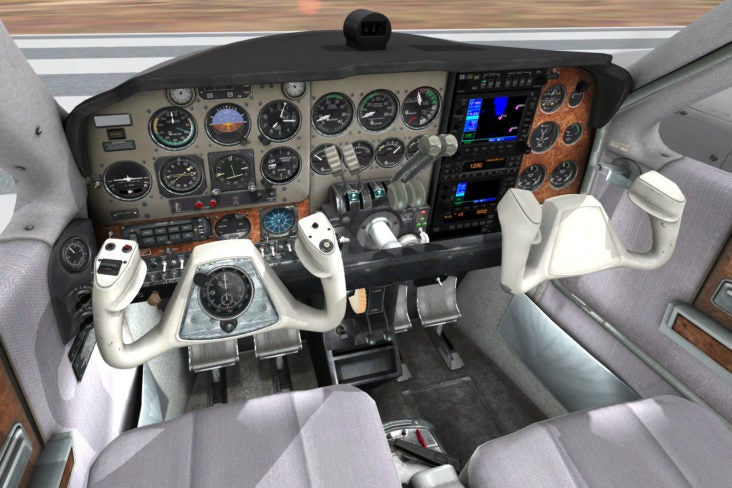 Platform: PC
Price: Free trial, full version is $34.99
If there is a single thing that really sets FlyInside apart, it is that the entire game was built for a virtual reality experience!
With FlyInside, you can slip on a VR headset and feel as though you are truly flying your favorite plane. While you can still play the game in the desktop version, the best flying experience comes from the full immersion using a VR motion controller and headset.
To keep the flying experience as realistic possible, FlyInside even offers a physics engine that mimics real-life flying conditions, as well as realistic 3D models and graphics.
Infinite Flight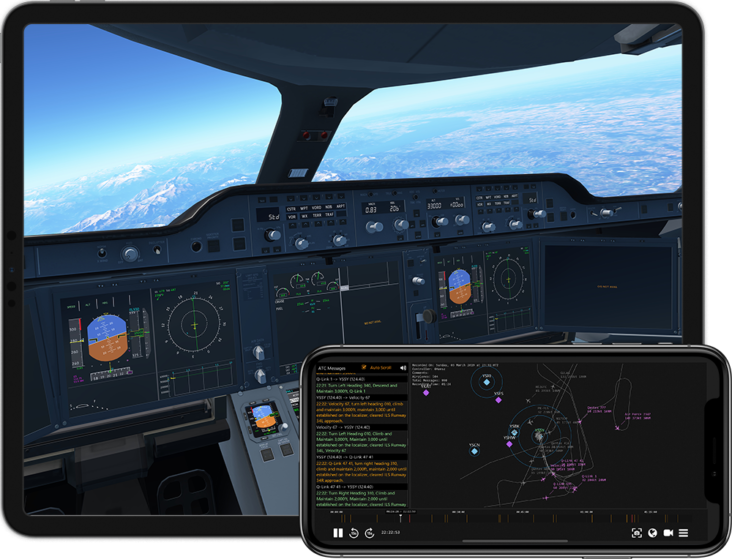 Platform: iOS, Android
Price: $4.99
Want a flight simulator that you can take with you on the go? Infinite Flight is the perfect option, as it is a mobile app that is compatible with any Android or iOS phone.
Infinite Flight has very immersive gameplay, a range of aircraft, locations, and dynamic atmospheric conditions. Furthermore, you can tailor each flight by choosing your time of day, weather conditions, and aircraft weight configuration.
Microsoft Flight Simulator X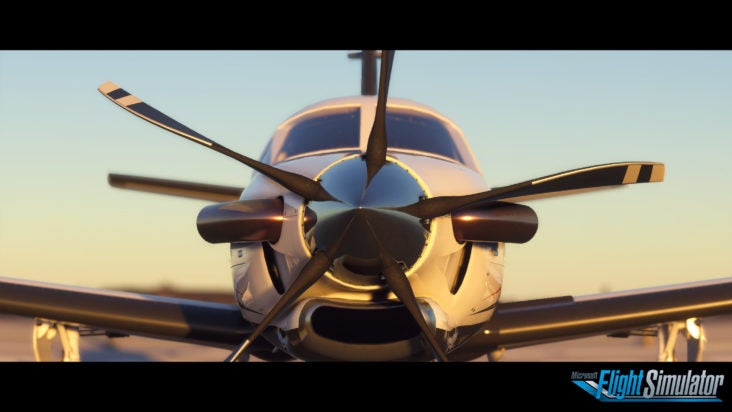 Platform: PC
Price: $24.99
One of the best flight simulators on the market, Microsoft Flight Simulator X features everything from navigation to GPS and airways, 18 planes, 28 detailed cities, and over 24,000 airports.
With Microsoft Flight Simulator X, there is an aircraft for every kind of flying and adventure. You can take control of aircraft like the 747, F/A-18 Hornet, P-51D Mustang, EH-101 helicopter, and others.
Players can take on the role of an air-traffic controller, pilot, or co-pilot and test their skills on over 80 different flight missions.
Take On Helicopters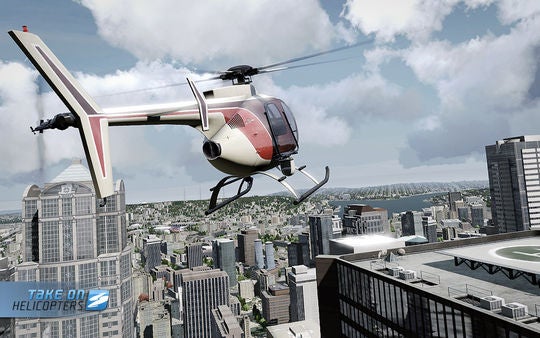 Platform: PC
Price: $19.99
If you're interested in flying something other than a plane, why not try out your helicopter flight skills?
Learn to master rotor wing flying while traversing an open world map modeled after real-world terrain and environments. Take on Helicopters allows players to experience high fidelity flight dynamics and true to life helicopters and cockpits, all while competing in a massive range of challenges and missions.
X-Plane 11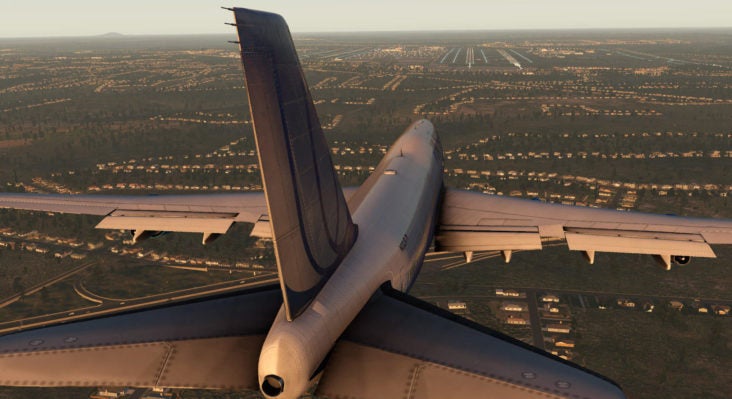 Platform: PC, Mac, Linux
Price: Free demo, full version is $59.99
If you're looking for an incredibly realistic flight simulator, you'll be hard pressed to find a better option than X-Plane 11.
The game features true-to-life cockpits of dozens of different airplane models, and detailed 3D scenery for more than 13,000 "living" airports around the world.
The "living" airports even include hangers, pushback tugs, and roaming fuel trucks that are able to service both your aircraft and the simulator's AI planes. X-Plane even features little touches such as detailed weather modeling and the potential for system failures.
While the game presents a bit of a learning curve, with practice you'll be flying like a professional in no time.
YSFlight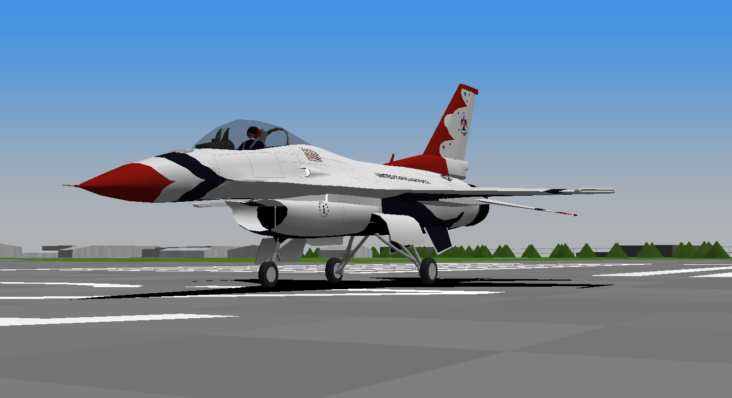 Platform: PC, Mac, Linux
Price: Free
If you don't have a computer that can handle some of the more complex offerings on this list, or prefer something a bit less intimidating, YSFlight is a fantastic option — better yet, it's free!
The visuals aren't nearly as impressive as other non-free simulators, but still offers more than 70 aircraft to fly, and a wide array of maps encompassing a host of well-known regions from around the globe, along with a HUB that delivers details on in-flight speeds, elevation, direction, and other essential information.
Best Combat Flight Simulators
Ace Combat 7: Skies Unknown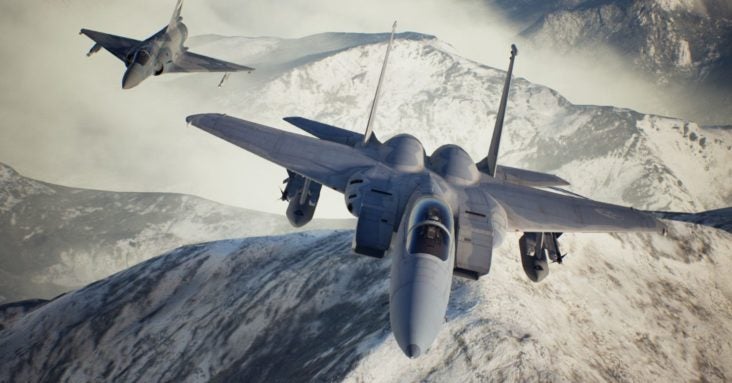 Platform: PC, PS4, Xbox One
Price: $19.99
Ace Combat 7 puts players at the helm of some of the most advanced warplanes ever developed.
Experience photorealistic visuals, 360 degrees 3D movement, intense action, and a multitude of authentic and futuristic aircraft to fly, all while playing along with an immersive and captivating storyline.
IL-2 Sturmovik: Battle of Bodenplatte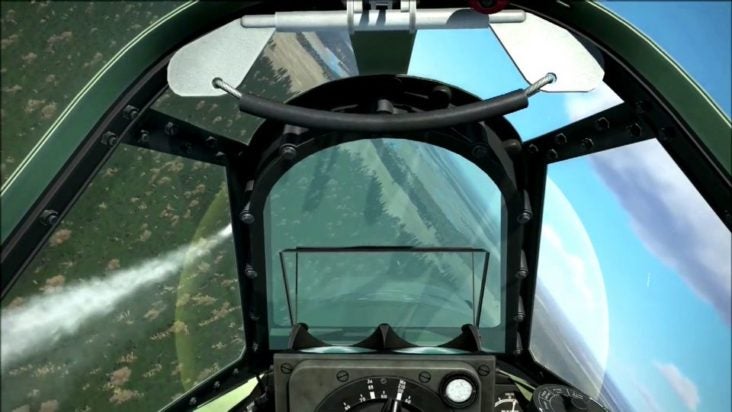 Platform: PC
Price: $49.99 Standard Edition, $79.99 Premium Addition
Another World War era flight simulator, Battle of Bodenplatte is dedicated to late war aerial engagements between the U.S. Army Air Force, Royal Air Force, and the Luftwaffe in the skies over western Germany, the Netherlands, and Belgium during the winter of 1944 and early 1945.
The game offers 8 standard aircraft to choose from, custom single-player missions, and a multiplayer mode to challenge your friends.
Rise of Flight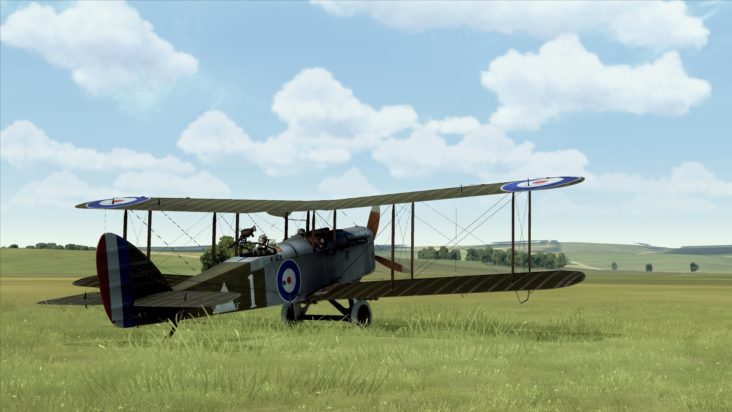 Platform: PC
Price: Free
Rise of Flight is the ultimate World War I combat flight simulator.
The game features advanced flight models, flexible difficulty settings, real-world physics, a progressive damage system, impressive visual effects, and detailed 3D models.
The game plays especially close attention to being authentic to the era, and features different gameplay modes, including custom scenarios, multiplayer battles, and a campaign that recreates several historic battles.
War Thunder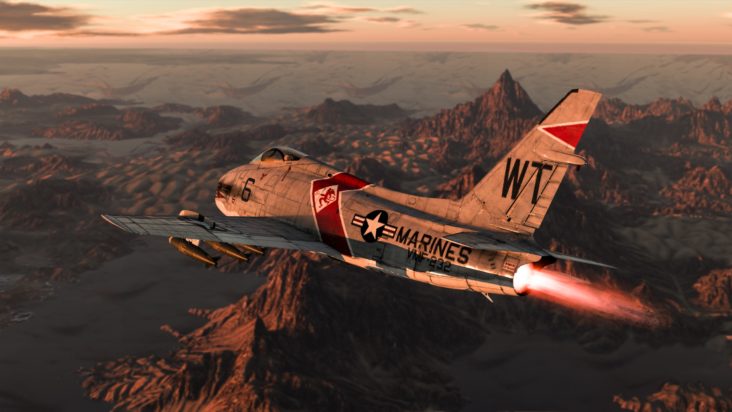 Platform: PC, Mac, Linux, PS4, Xbox One
Price: Free
War Thunder is the most comprehensive free-to-play, cross-platform, multiplayer online military game on the market.
Choose from dozens of different aircraft options, over 100 maps that represent historical battles, full-scale combat missions, and intense player vs player experiences with gamers from all over the world.
Better yet, even though War Thunder released almost 8 years ago, they continue to update the game with new aircraft, maps, and missions.
World of Warplanes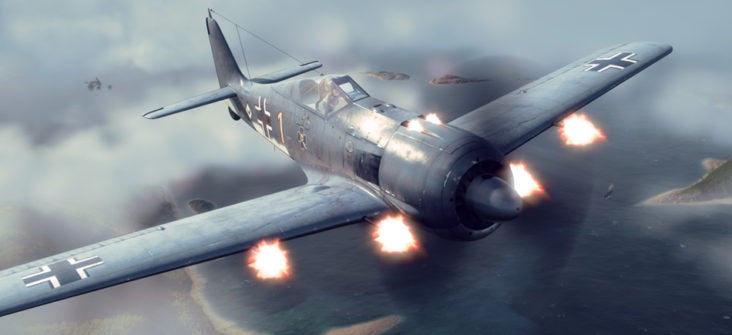 Platform: PC, Mac
Price: Free with premium add-ons
World of Warplanes is a combat simulator that puts players in large battles against each other, allowing them to pilot everything from the wooden biplanes of WWI to modern jets.
The controls are a bit more barebones and not as involved as other options on this list, but this does make the learning curve quite a bit easier for those just looking for a fun airplane combat experience.
Final Thoughts
As you can see, there is a flight simulation out there that is perfect for you no matter your budget or what type of experience you're looking for. From stunt aerobatics to war combat to flying games, there's a flight simulator that fits every taste and style.
So while we might not all be able to hop on a plane right now, you can boot up your computer or video game console and jet off to new destinations all over the world.
And, until it is safe for all of us to travel again, these simulated flying experiences will have to do.